Sushant Singh Rajput trains at NASA for Chanda Mama Door Ke!
Recently Sushant Singh Rajput tweeted a picture of himself fiddling with miniature rockets while sitting inside a 'life size' rocket with a NASA embossed mug in his hand. Sushant captioned the picture: "From a miniature Rocket to a life size one, this grown up kid will never cease to Dream. My mother always wanted her 'Sushant in Space'.
Sushant told Indian Express that when in NASA he will "Get an idea about the training that individuals undergo to become astronauts. I will be sitting in a comet and experience 1/6th of my weight on the moon. I am over the moon right now for an experience."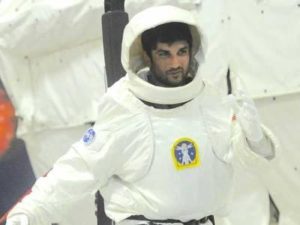 Chanda Mama Door Ke is directed by National Award-winning director Sanjay Puran Singh Chauhan (Lahore) and also stars Nawazuddin Siddiqui and R Madhavan.