What it means to be Religious?
While there seemed nobody except the Bangladeshi government which was willing to let the close to four lakh Rohingyas being driven out of Myanmar as a result of ethnic cleansing in Rakhine which had the tacit support of the government there including the famed Aung San Suu Kyi, now thoroughly discredited, an international Sikh charity organisation Khalsa Aid moved in swiftly to set up 'langars' or community kitchens which are traditionally offered in Gurudwaras. Even India, which otherwise has a historic reputation of responding sympathetically to any humanitaian crisis and accommodating all hues of people seeking refuge, due to a right wing government in power turned the extremely impoversihed community away on the excuse that they could be a potential threat because of their religion. While the Indian National Human Rights Commission has highlighted the Article 21 of the Constituion upholding Right to Life and Personal Liberty even for the Rohingyas and opposed plans for the deportation of about 40,000 of them living in India, the government is planning to keep them in 'detention centres'.
The Prime Minister celebrated Diwali with soldiers on border, as has become the wont, and Chief Minister of Uttar Pradesh lit 1,87,213 diyas or earthen lamps, one in the name of every citizen in Ayodhya at government's expense. PM Narendra Modi must be asked why does he have to rush to the border on every occasion of religious and national importance? Lal Bahadur Shashtri, a PM his Bhartiya Janata Party holds in higher regard than the members of Nehru-Gandhi family, had given the slogan 'Jai Jawan, Jai Kisan.' Should he also not be visiting some families of farmers whose members have committed suicide or parents of children who died in Baba Raghav Das Hospital, Gorakhpur, which could have been avaioded with better health care facilites, instead of demonstrating his militaristic mindset every time.
CM Yogi Adityanath announced a package of Rs. 133 crores following up on Rs. 350 crores plan declared earlier in June for Ayodhya's development. This colossal waste of public funds on purely religious events violates the secular principle incorporated in Indian Constitution. More than constitutional, it is morally unacceptable when half the children are malnourished and people can be found begging on every major street crossing of major cities, including the 'smart' ones, and outside temples, mosques and shrines. The left over of the 25,000 litres oil burnt in earthen lamps was being collected by people after the event, possibly to be used for cooking. The oil used was that of mustard and seasame and possibly soyabean.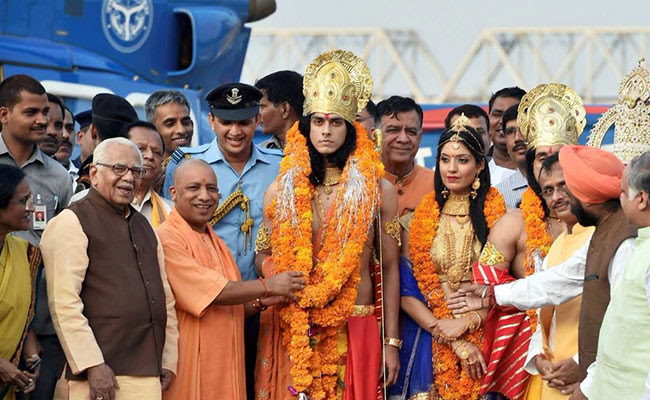 Models especially invited from Mumbai dressed up as Ram, Sita and Laxman arrived in a UP government helicopter to create an impression, according to mythology, of Ram arriving after 14 years of exile from Lanka in Pushpak Viman. This use of state helicopter by artists was in violation of governmental protocol. It needs to be investigated who authorised its use for this event. The Governor Ram Naik, whose job it is to see that Constitutional propriety is maintained was part of the event, almost hand in glove with the UP government. Very quick to point out any irregularity in the last government he seems to be overlooking some discrepancies in the present one. His Rashtriya Swayamsewak background, which is the ideological parent of BJP, prevents him from being unbiased.
While the Khalsa Aid is winning global accolades, what the UP government has done is only advancing the political agenda of BJP which relies on religious polarisation. While people belonging to Sikh religion are using their private resources for a noble cause, the people engaging in politics as torch bearers of Hindu religion are taking the public resources down the drain. They have brought disgrace to their religion by indulging in pomp and show. It would have been so much better if Yogi had fed 1,87,213 people of Ayodhya a wholesome meal. But there is no concept of feeding people respectfully in Hindu religion like in Sikh religion. The only way somebody is fed is by treating him/her as beggar. That is why Hindu and other religions have failed to get rid of the practice of begging whereas Sikh beggars are non-existent.
The core universal religious values are compassion, large heartedness, tolerance and empathy. While the Khalsa Aid has amply demonstrated these, their Hindutva counterparts have displayed their sectarian tendencies. The Sikhs associated with Khalsa Aid are definitely religious who also don't discriminate on the basis of religion, race, caste, etc. They have provided succor in 2005 earthquake, including to Hindus, 2009 in Swat crisis and after terror attack in Manchester earlier this year. Even though Yogi has pompously declared that now there is Ram Rajya established in UP, only the second time in history, in which there will be no discrimination on the basis of caste, religion, etc. but it is no secret that RSS-BJP thrives on anti-Muslim propaganda and misadventure. They cannot be called religious even though Yogi Adityanath, being the Mahant of Gorakhnath temple in Gorakhpur wears religious outfit. Performing rituals in not being religious, but living the universal values is. The RSS-BJP is merely interested in politics of sybolism. People indulging in politics in the name of religion can at best be described as pseudo-religious.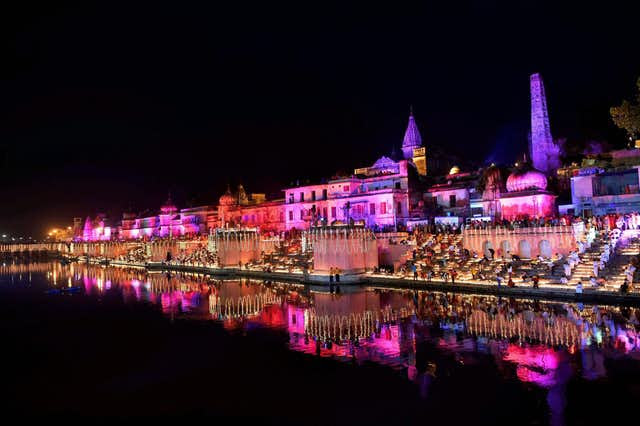 With the emergence of RSS and coming to power of BJP in various states and at the centre we've witnessed more hate crimes, targetting of Muslims and dalits and subjecting them to lynching, curb on freedom of expression and in general creation of an atmosphere of religious intolerance. Actually this is acting against the spirit of religious values and RSS-BJP are doing serious damage to the fabric and image of Hindu religion in the world. From that perspective they are, in reality, anti-religion.