Three ways to cook potatoes Indian style
Aloo Zeera
4-5 medium size aloo/potatoes
2 tbsp oil
1 tsp cumin seeds
3-4 slit green chillies
1 tsp roasted cumin seeds powder
1 tsp roasted coriander seeds powder
salt – to taste
1 tsp red chilli powder
¼ tsp turmeric powder
2 tbsp freshly chopped coriander leaves
Ingredients
Boil the potatoes:
Firstly, take a pressure cooker, into it, add aloo/potatoes, add water enough to dip the potatoes.
Add some salt.
Pressure cook the potatoes/aloo until they get soft or for about 5-6 whistles on high flame.
Reduce the steam.
Take the potatoes and remove the peel of the boiled potatoes.
Dice the potatoes using a knife.
Rest the diced potatoes aside.
For the jeera aloo recipe:
Take a wok, into it, add oil and heat it.
Add cumin seeds.
Add slit green chillies into it.
Reduce the flame.
Add roasted cumin seeds powder.
Add roasted coriander seeds powder and mix.
Add salt as per taste.
Add red chilli powder and turmeric powder and stir the mixture well.
Add in the diced potatoes which were kept aside.
Keep tossing the wok until the diced aloo gets coated well with all the spice mixture.
Cook for one or two minutes.
Lastly add in some freshly chopped coriander leaves and toss them again.
Serve hot with roti or paratha.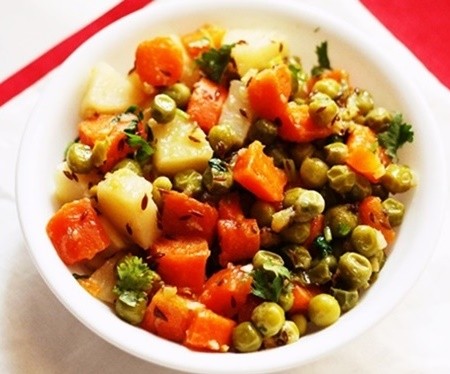 Aloo matar gajar
ingredients
2 cups chopped potatoes;
1 cup chopped carrots;
½ cup frozen peas;
1 tsp cumin seeds;
1 tsp mustard seeds;
1 onion, chopped;
1 tsp ginger garlic paste;
1 tomato, chopped;
1 green chilli, finely chopped;
½ tsp turmeric powder;
½ tsp garam masala;
pinch of asafetida (hing);
½ tsp salt;
½ cup of water;
oil;
few fresh coriander leaves, chopped.
Method
In a pressure cooker heat some oil. Add cumin seeds and mustard seeds and let it fry for 30 seconds.
When they start to crackle, add chopped onion and ginger garlic paste. Stir fry for 5 minutes, on medium flame.
Add tomato, green chilli, salt and all powder spices. Mix well and let it cook few minutes, until the tomato gets soft.
Bring potatoes, carrots and peas into the curry. Mix well so the vegetables get covered with masala. Add half cup of water, close the lid and pressure cook it, on medium flame, for 2 whistles.
Once done, turn off the flame, let the pressure go down by itself, then open the cover.
Garnish with fresh coriander leaves and serve hot.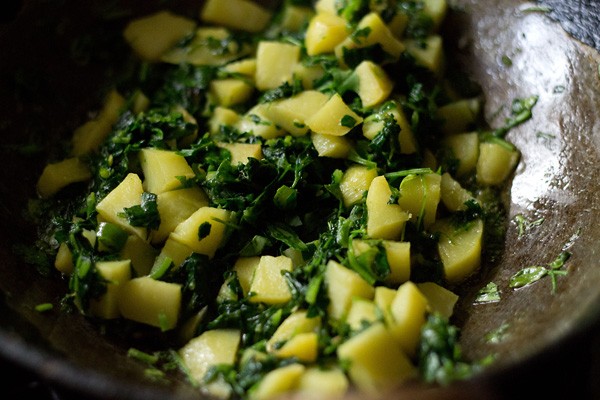 Aloo methi sabzi
Ingredients
4 medium size potatoes peeled and cubed byte size; this will make about 3 cups of cubed potatoes.
3 tablespoons oil
1/2 teaspoon cumin seed (jeera)
1/8 teaspoon asafetida (hing)
3 whole dry red chilies broken in 2 pieces
1/4 teaspoon turmeric (haldi)
1 tablespoon coriander powder (dhania)
2 cups fenugreek leaves chopped or 1/2 cup dry fenugreek leaves (kasoori methi)
1 teaspoon salt
1/4 teaspoon red chili powder
1/2 teaspoon mango powder (amchoor)
 Method
Wash peeled and cut the potatoes in small cubes.
Heat the oil in a saucepan over medium-high heat. Test the heat by adding one cumin seed to the oil. If the cumin seed cracks right away, the oil is ready.
When the cumin seeds crack, add asafetida, and red chilies stir for few seconds add potatoes stir add turmeric, coriander powder, red chili powder, salt and fenugreek leaves. Mix it well and cover the sauce pan.
Turn down heat to medium. Let it cook until potatoes are tender and cooked well it should take about 15 minutes. Do stir one or two times in between.
From some sides potatoes will be light brown in color. If potatoes appear to be very dry add one or two tablespoons of water.
After potatoes cooked well, add the mango powder and mix it well. Turn off the heat. Aloo Methi is ready to serve.