Gandhi in the form of Modi?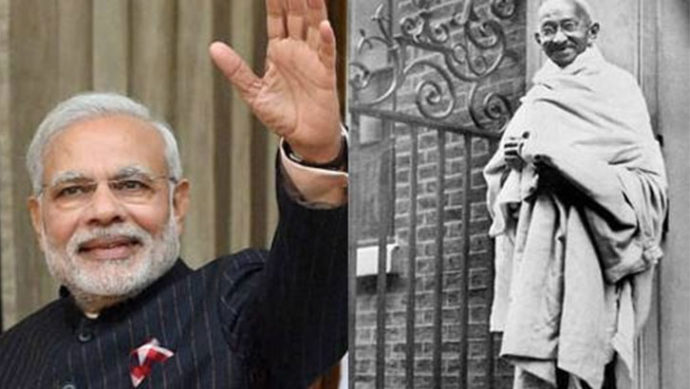 Union culture minister Mahesh Sharma says Mr. Modi was "another" Mahatma Gandhi, who, like the father of the nation, would inspire many generations. "Today among us, we are fortunate to have another Gandhiji in the form of our prime minister who is like an inspiration."
Yes, yes, he was such a great inspiration to Mahesh Sharma that the minister declared the lynching of Mohammad Akhlaq in Dadri was an accident. Yes, yes, right wing fanatics just fell on Akhlaq by mistake and l
ynched him. An RSS Bhakt, Mr. Sharma was also the person who grandiosely stated, "We will cleanse every area of public discourse that has been westernized and where Indian culture and civilization need to be restored."
Of course, he sent his own son to Oxford for a proper education in medicine. Culture be damned. Yes, yes, he was also the man who grudgingly accepted that Abdul Kalam, more Gandhian than his own boss, was a nationalist and a humanist, "despite being a Muslim".
Meanwhile, is Mr. Modi an inspiration to the nation? Here he is in his signature suit with his name running all over it, probably the most expensive suit ever stitched in modern India, all to impress Mr. Obama, and there is Mahatma Gandhi in his minimalistic attire, truly inspired by what Mr. Sharma refers to as Indian "culture and civilization," at No.10 Downing Street, London, in 1932. That's all Mr. Gandhi needed to wear to impress the world, and inspire India for decades, and there next to him is a strutting peacock who requires India's most expensive suit to impress his notion of the same world and its leaders.
Just this one image is enough to shatter Mr. Sharma's analogy. We don't have to go to 2002 to the silent chief minister in the Gujarat riots. We don't have to mention the many lynchings after Mohammad Akhlaq, we don't have to relist the many, many, lies…
Just this one image is enough…