FAST ENDS ON 7TH DAY AS NO RESPONSE FROM GOVERNMENT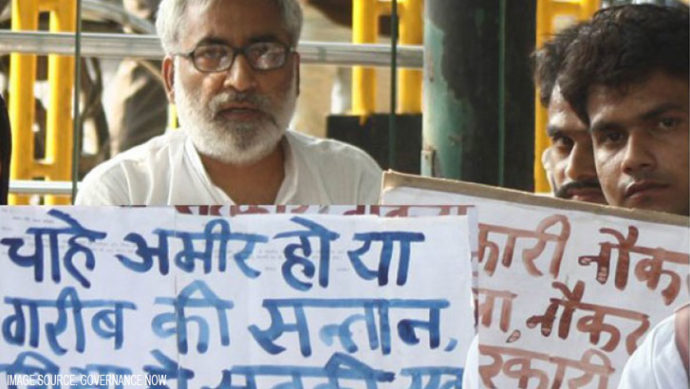 The indefinite fast going on to get Justice Sudhir Agarwal's judgment implemented making it compulsory for all receiving salaries from the government to send their children to government schools ended on the 7th day today as there was no response from the government. During this period Chief Minister has launched his school enrollment drive and distributed free books, uniform, socks, shoes and school bags to children in a high profile event. He said that he would not like to see a single child out of school but didn't elaborate on how he proposes to achieve this. The only good thing said was that positive image of government schools will be restored.
 It is clear that the government has ignored the fast. In protest against this the fast will be broken by accepting juice from children who don't attend school as victims of child labour or children who in spite of an order from the District Magistrate for admission to one of the elite schools under section 12(1)(c) of the Right to Education Act were not given admissions by the school. This is a slap in the face of government.
Will Yogi tell us how does he plan to ensure admission of 105 children whose admission was ordered in last academic year by DM in City Montessori School, Navyug Radiance, City International, St. Mary Intermediate College, Virendra Swaroop Public School of Lucknow but the schools didn't admit them? City Montessori School has again gone to the Court challenging the admission orders of children during this academic year saying that these children do not fulfill the norms. How is it that all the admissions being approved by the Basic Shiksha Adhikari in City Montessori School are being held by the school as invalid? This school is making a mockery of the RTE Act but does the government and administration have the will power to take action against this powerful school? Jagdish Gandhi, the manager of the school, is clearly preventing some children from receiving the education.
 It is good that the government wants to restore the pride of government schools. But this is not going to happen by distributing school bags, dress, shoes, socks or books. Neither is this going to happen by tree plantation drive which will go along with the enrollment drive this year until 31 July. We believe this is possible only if children of government officers, employees, people's representative and judges study in government schools. When the children of this class enter the government schools quality of schools will improve overnight. Poor will also get the advantage of this as their children will also receive good quality education. The middle class will also benefit because they'll have an option to free themselves from the clutches of those private schools which charge arbitrarily high fees and exploit them in other ways too.
 It is sad that the government doesn't understand this. Even though the fast has ended our struggle to get the Justice Sudhir Agarwal's judgment will continue. We will approach the Court, go to the masses and use advocacy with the government to fulfill our commitment.