DEFECTIVE KETTLE AND DEAD SABARMATI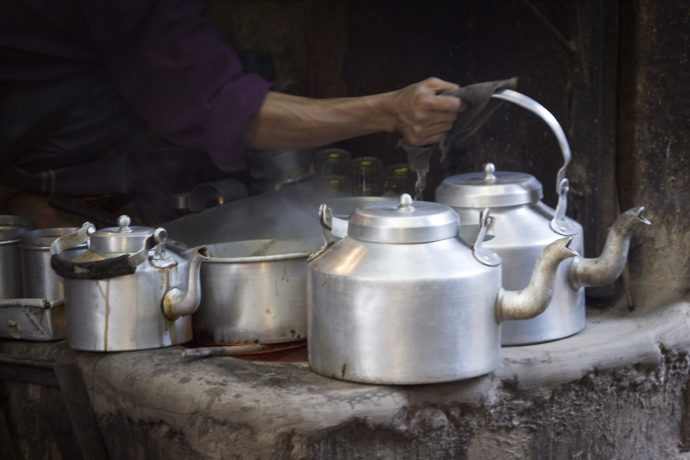 Chai tea kettles on the street, Varanasi Benares India
      When Narendra Modi was to contest the election to become the Prime Minister of India, after being the Chief Minister of Gujarat from 2001 to 2014, it was revealed to the country that he used to sell tea in his young days – to project his meteoric rise from a modest position. Vadnagar railway station was identified as the location where he used to sell tea. The government is spending money on this railway station to convert it into a tourist location.
            In reality, Modi took over the management of his uncle's canteen for some time at the State Transport depot at Geeta Mandir in Ahmedabad when he was a teenager.
            At a major traffic junction in Ahmedabad, Akhbar Nagar circle, which fell in the assembly constituency of Modi's protege Amit Shah when he was a Member of Legislative Assembly, now the second most powerful person in this country, model of a kettle was built by the Silveroak Institute of Engineering and Technology in 2012. At first appearance, the kettle looks impressive. The problem with its design is, if observed carefully, the handle is so connected that the kettle cannot be tilted to pour the tea. Howsoever much you may tilt the handle, the body of the kettle will remain stationary in a horizontal position. The design is a telling description of the capability of our engineering institutions and quality of their products.
            This defective kettle model is symbolic of the Narendra Modi brand of politics. It is a bold display of a model which doesn't work. Actually, it is useless. Initially, it gives you an appearance of reality. But if you take a close look at it then you realize that you've been cheated. It looks so real that you almost believe that it'll deliver tea. But one keeps waiting in expectation and in the end, it doesn't benefit anybody. It is only for show off. People pass by it every day without making a comment. It is unclear whether they prefer to ignore it or they are unaware of the defect? One wonders whether the creator of the model considered people as fools and worried little about what they would say when they would become aware of the flaw in the design. Question is can he fool all the people of all time to come? Or someday people will feel embarrassed enough to consider the kettle model as a blot on their intellect and pull it down or at least try to rectify the defect by placing the handle in the right position?
            That there was no truth in the story of Modi having been a tea seller in the past, was clear from the way real tea vendors serving the patients and their attendants outside the Banaras Hindu University hospital in Lanka market were treated when Modi used to arrive in his parliamentary constituency. As his helicopter used to land on the University campus all the tea vendors have bundled away days in advance and were treated as the security threat to him. The President of the vendors' association Chintamani Seth handed over a memorandum detailing the loss the tea vendors had suffered during Modi's numerous visits to Varanasi and claimed compensation from the local office of Narendra Modi. Vendors were denied their livelihood so long as their representative was in town. Could a real past tea seller have been so insensitive to his co-vendors? His office did not choose to respond to the above memorandum. The police were more repressive next time vendors were to be removed. Usually, they would re-establish their shops once Modi left Varanasi. But since Yogi Adityanath became the CM life became more difficult for vendors. Once removed they were not allowed to return. It took an agitation before they could set up shop again. The future of these vendors is uncertain in the PM's constituency. The Modi-Yogi rule has left them more vulnerable than before.
            Modi also made an election promise in Varanasi in 2014 that he would clean Ganga the way he cleaned Sabarmati in Ahmedabad. Three and half years have passed. The sewer treated and untreated both flow into Ganga unhindered. Nitin Gadkari has recently made a foreign visit to raise money for the clean Ganga project.
Upstream of Ahmedabad Sabarmati is a dried river with not a single drop of water present. There is no governmental effort seen to revive the river. Only in the rainy season, some pools are visible. An unplanned diversion of water from the Narmada canal makes 10-11 km of Sabarmati passing through Ahmedabad city look resplendent. A river has been converted into a longitudinal lake. But downstream of the city the water becomes black as all the industrial effluent, with or without going through a treatment plant, is merged with water. Sabarmati cries for help here but there are no plans to clean it.
 The kettle and the Sabarmati are symbolic of Modi's Gujarat model of development which has now been thoroughly exposed. After waiting for so many years expecting some miracle to take place now people have decided to question it.
The power of youth represented by Hardik Patel, Alpesh Thakur, and Jignesh Mevani is arrayed against the Bhartiya Janata Party government and Narendra Modi in particular and the BJP doesn't have a face which people find attractive enough this time.
  The days of the politics of symbolism seem to be numbered now.